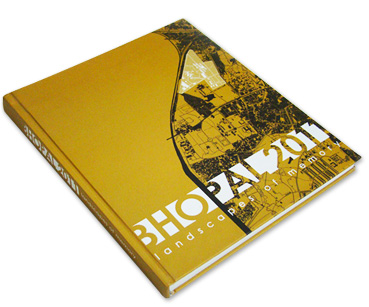 Landscapes of Memory is the documentation of the Bhopal2011- Workshop and Symposium, conducted from the 23rd of January to the 4th of February, 2011 in the city of Bhopal, India. The event explored the significance of the Union Carbide industrial site - its heritage as the origin of Bhopal gas tragedy, its present condition as an abandoned industrial brown field site and its relevance as the future site for the commemoration of the victims of the world's greatest industrial disaster. The multidisciplinary event was conceptualized as an action-research initiative - an academic exercise involving students, researchers and institutions from Bhopal and across the world, with a public interface which sought to increase awareness on the ongoing socio-cultural and environmental challenges facing the Union Carbide site. The event uniquely provided an open, neutral platform for local citizens, visitors, survivors, activists, government officials, students and academicians to engage with the conflicted, real-time issues facing the site. In doing so, it drew attention to the possibilities and challenges of inclusive processes for the remediation of the site and the protection of its cultural heritage. That the process is gaining momentum, is manifest in this publication that documents the event and its outcomes. The diverse cases and contributions included in the publication illustrate that the thematic concerns of Bhopal2011 are shared by many other sites and communities across the world. Landscapes of Memory addresses these issues of inclusive heritage, participatory urban development, cultural rights and memory that underpin the narrative of the Bhopal gas tragedy, and its shared legacy in our collective consciousness.





Published by SpaceMatters, India with Norwegian University of Science and Technology (NTNU)
Supported by Research Council of Norway, University of Gothenburg, Sweden, modern Asian Architecture Network (mAAN)

Editors Amritha Ballal, Jan af Geijerstam
Associate Editors Moulshri Joshi, Swati Janu
Research Assistants Janesh Raja, Swati Goel
Layout and Graphic Design Amritha Ballal, Anuja Shrivastava, Jan af Geijerstam, Janesh Raja, Ranjith Kumar, Sanjeev Kumar, Suditya Sinha, Swati Goel, Swati Janu
Cover Design and Chapter Covers Amritha Ballal, Sanjeev Kumar, Janesh Raja

Printers VAP Enterprises, New Delhi, India
ISBN 978-82-725-9121-1
Book Size 220 x 260 mm
No of Pages 241
Full Color
---



CONTENTS



Introduction Amritha Ballal

1. Prologue
"I was not alone that night...." Raajkumar Keswani
Timeline of an unfolding tragedy 1969-2011 Jan af Geijerstam, Swati Janu
Exchanges
List of abbreviations

2. Discourse and dissonance
Connections
Bhopal2011 Context, concept, process Organising Committee, Bhopal2011
Workshop & symposium schedule
Workshop units
People
Visitors to the workshop
Looking Back – A glance at Bhopal2011

3. Artefact – the factory
Introduction
Union Carbide factory as heritage and resource – workshop unit
Union Carbide factory site, 2011 – photo essay Jan af Geijerstam
A factory worker's chronicle Anupriya Goswami
The production of industrial heritage Bosse Lagerqvist
Industrial waste-scapes in urban centres Swati Janu & Aditya Ghosh
Charminar Promenades Nalini Thakur
Perspectives on 'industry' as 'heritage' Kai Weise, Moulshri Joshi

4. Context – the city
Introduction
Bhopal march – workshop unit
City with a past Meera Dass
Bringing Benazir back to life Moulshri Joshi
An architecture of possibilities Jeeth Iype
Patterns of forgotten spaces Norihito Nakatani

5. Custody – memory and commemoration
Introduction
Shadow boxing – workshop unit
Bhopal Gas Tragedy memorial Amritha Ballal, Suditya Sinha
Bhopal's memory Rama Lakshmi
Breaking through the fourth dimension Eka Swadiansa

6. Process – democracy and dissent
Introduction
Inclusive heritage management – workshop unit
Raising questions – excerpts from panel discussions and debates
Museums and their approaches Diana Walters
Plants for a memorial of a polluted past and a cleaner future Maria Greger
Restoring war damaged built cultural heritage in Bosnia-Herzegovina Tina Wik
Monitoring heritage through efficiency process algorithm Saptarshi Sanyal

7. Legacy – Bhopal in the world
Introduction
Urban photo rhizome – workshop unit
For the people, by the people Shalini Sharma
Past to present, memory to action Bix Gabriel
Why do people not visit Bhopal? Constantin Canavas
One water, many rivers Björn Ola Lind, Torkel Lundberg

8. Reflections
Choka Bhopal 2011Reflections of unit mastersReflections of studentsBhopal2011 and beyond Hans Christie Bjønness
Reinventing heritage conservation as a collective endeavour Jagan Shah
Post Bhopal2011 Organising committee Bhopal2011

9. Appendices
Notes and references
Image credits



---



COST



Purchase Cost India:15 €/1000 INR
OECD countries: 30 €
Non- OECD countries: 20 €
For shipping charges click here

---
PURCHASE
For purchased books
Please fill in the online form below
We shall revert by e-mail with an invoice and account details based on the shipping costs within a week
The book will be shipped once the payment is received
The shipping time is 7 days approximately
For the free participant copy
(all participants of the workshop and symposium are entitled to one free copy)
Please fill in the online form below
If you only require the free copy please enter 1 in the field 'Number of copies'
The free copy will be shipped once we receive the details
The shipping time is 7 days approximately
In case you wish to purchase extra copies please mention the total number including the free copy and we will revert with the invoice for the same
In the 'Mailing Address' field, please mention the name and mailing address of your institution as we will deliver the books in bulk to all the institutions that participated in Bhopal2011. If for any reason, you are unable to collect your copy in person from your institution, you may provide an alternate mailing address. Kindly also leave a note with the reason in the 'Comments' field below.
Form